39 Luxury Walk in Shower Tile Ideas That Will Inspire You
Featured Image: Pinterest
A luxury walk-in shower creates a nice roomy feeling for your bathroom remodeling project. The lack of obstructions provides a seamless transition from the rest of the bathroom into the shower area. Not only is a walk in shower safer, especially for the elderly and children, it also works perfectly for those who desire a relaxing minimalist bathroom style.
BARRIER FREE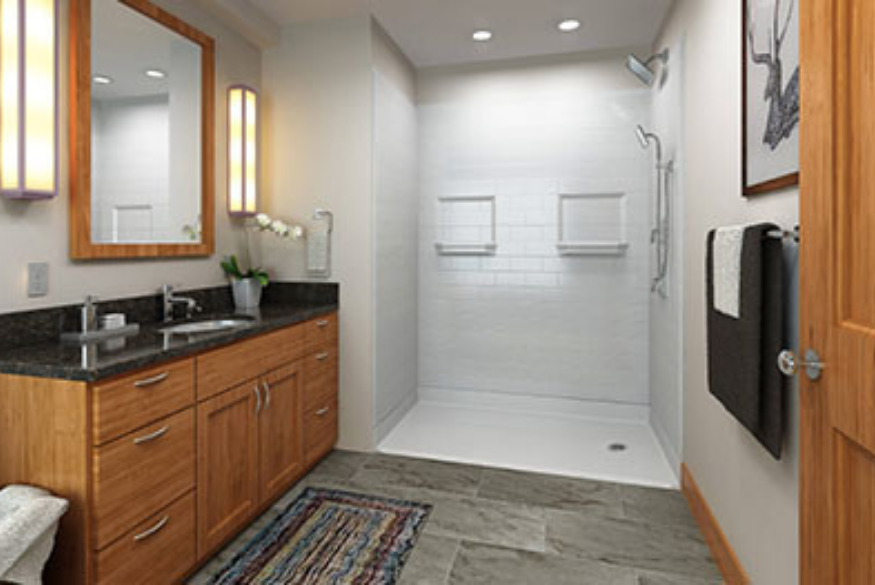 Bestbath
Literally walk in directly to this shower with no enclosure.
TRANSITIONAL
Steinberg Custom Designs
Showers should be fun and relaxing. This walk in shower can give you that.
FAUX TILE
Bestbath
Have the best of both worlds of design and convenience with this faux tile shower wall.
CONTEMPORARY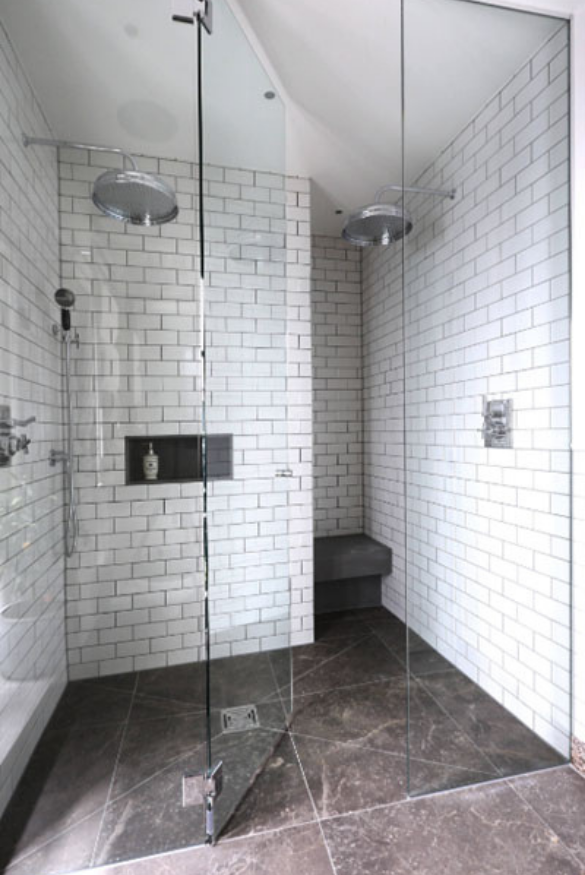 lex Maguire Photography
White subway tiles in a matte finish for this contemporary bathroom.
NATURAL STONE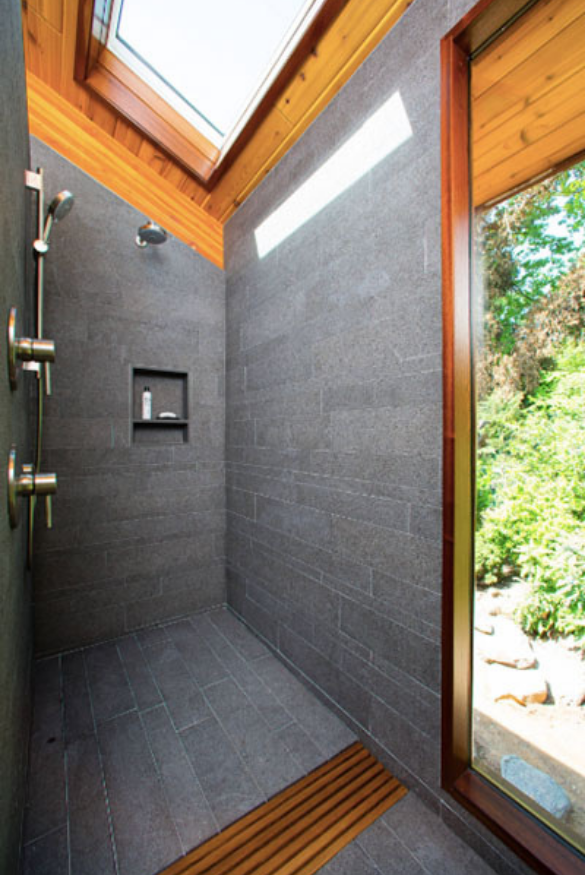 Workshop11
Natural stone called Pompeii Scarpeletto gives this shower a sleek and stylish finish.
VIEWS
zaher architects
You're in for a treat on this walk in shower with a stunning view.
UNIQUE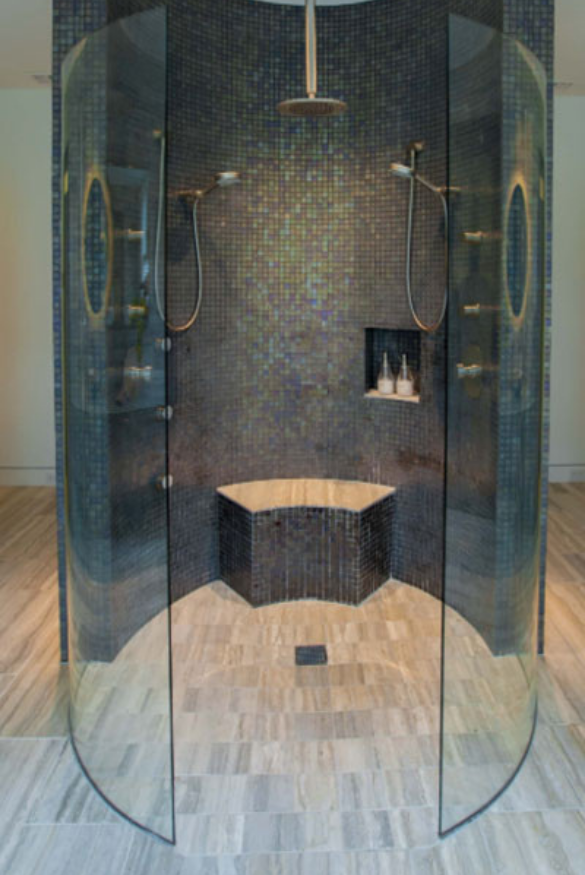 Key Residential
Carefully designed and constructed to guarantee that water does not extend beyond the shower.
SIMPLE & MINIMAL
UP Interiors
With the rise of minimalism, this minimal, timeless walk-in shower with a large window is such a hit!
SCANDINAVIAN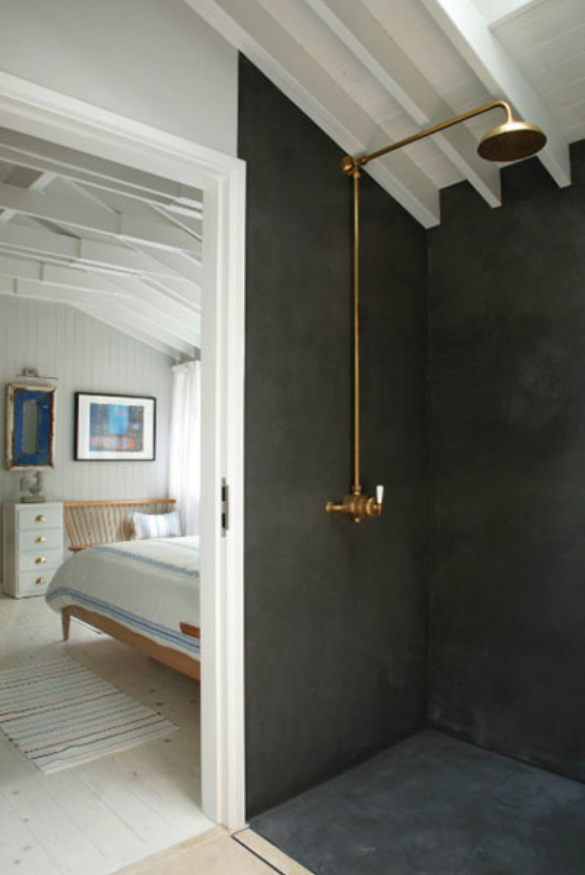 Egon Walesch Interior Design
The waterproof plaster finish in shower walls and floor give this walk in shower a modish appeal.
SOPHISTICATED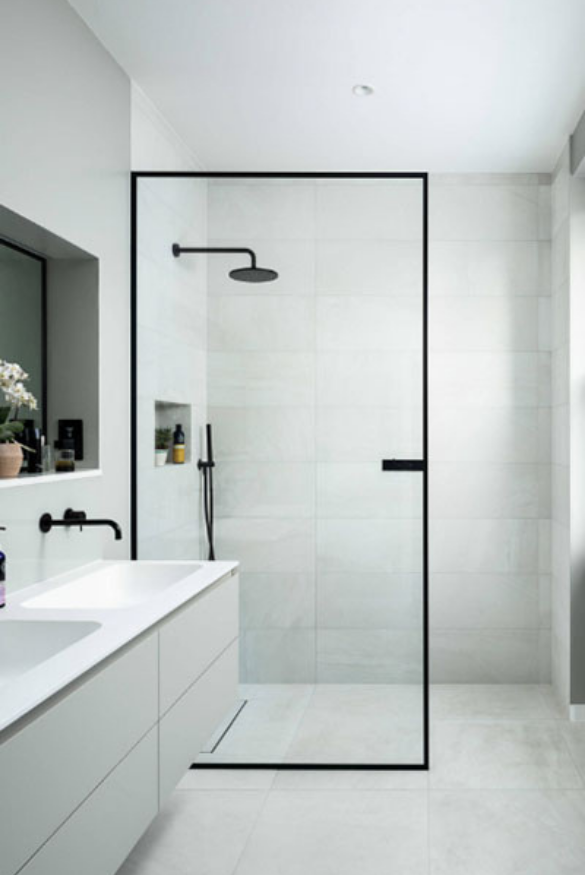 EMR Architecture
This is proof that you don't need to put a lot of details to make your walk in shower extraordinary.
Various Luxury Walk in Shower Design Options
There are various design options for your walk in shower. One of the most common variations comes in the form of a glass enclosure, with the glass helping create a bright and airy feeling. For an even lighter effect, consider adding a window to the shower, if it is possible. If not, try a skylight. If neither of these is possible, an all-glass enclosure would be better because it remains bright enough even with artificial lighting only.
You can also opt for walk in shower designs without doors. Take a look at our bathroom remodeling ideas, compiled from our previous projects. You could have the other walls solid, glass-only or a solid base with a glass top half. One thing to note about the doorless walk in shower is that it does not allow for much privacy, and this is generally true for all walk in showers. If privacy is not your priority (or is already provided by other means) then a walk in shower is perfect.
Each design comes with its own logistical and construction headaches on issues such as drainage. So make sure you consider these when choosing what style to go for.
WARM & MODERN
Jablonski Associates
Simple & modern overall design to this shower. All the wood keeps it warm and the light green tiles in the shower keep it natural and soft. Love the size of the gray tiles on the floor.
GRAY SUBWAY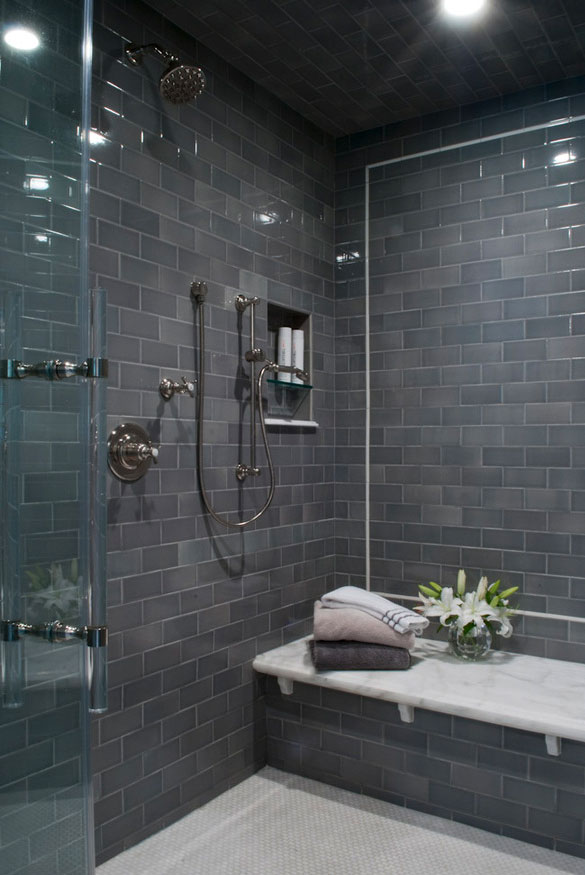 BHDM
Beautiful gray subway tile. Nice long marble top bench.
BLUE-GREEN TILE
Laura Miller Interior Design
Gorgeous blue/green Walker Zanger tile in this beachside shower.
SMALL STONE
midesign
This small stone tile gives this shower a more warm and cozy feeling.  Check out our article on the Toto Washlet Bidet.
Luxury Walk in Shower Floor and Wall Designs
Like any other bathroom, you also have to consider the floor and wall design. If you plan to have a solid wall as part of your walk in shower, use a neutral tile color that maintains the airiness of the bathroom. One area where you can create a unique style is the back wall, which you can use as the focus of your walk in shower and bathroom as a whole. For instance, a nice stone mosaic back wall draws your attention to it immediately you set foot into the shower.
As for the floor, ceramic, stone and glass tiles are popular because they are waterproof. You can either choose a neutral walk in shower tile design that keeps up with the overall minimalist style or go for a unique eye-catching design to complement an equally attention-commanding back wall.
Finally, consider the role accessories play in the overall style and feel of your walk in shower. Circular showerheads create a warm traditional feel while square rainfall showerheads give the bathroom a more futuristic feel. Other accessories to consider include a soap dish, grab bars, a corner seat and a spa-style bench for larger walk in showers.
Ready for your own amazing walk in shower? Here are a few design ideas to get you started.
ELEGANT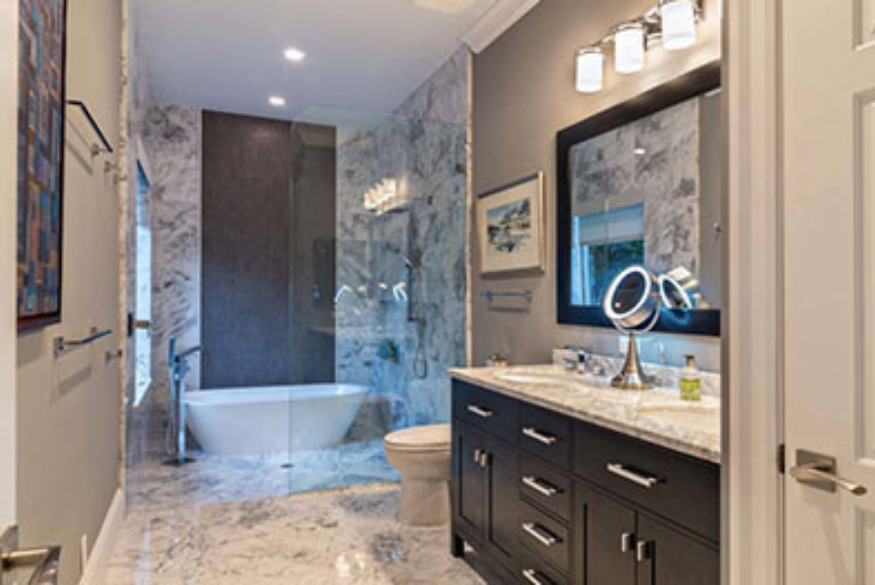 ffinity Construction Group
Bath and shower in one on this modern and elegant bathroom.
GORGEOUS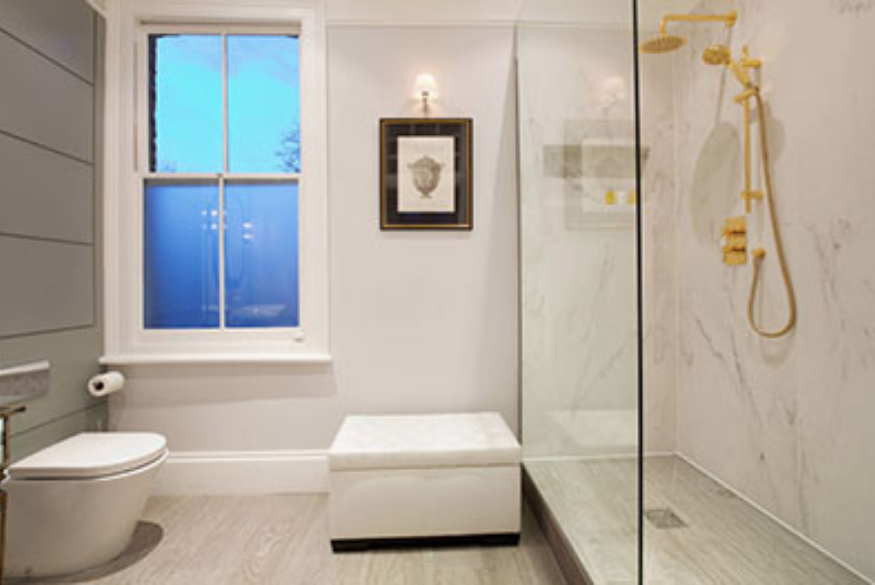 nita Bourne t/a DefinitiveInteriorDesign.com
The marble wall, together with the gold shower accessories, make this shower undeniably gorgeous.
CORRUGATED
Victor M Samuel Photography
Corrugated metal? Very difffent choice of materials for this ultra-modern shower. The shower floor is concrete and the shower walls appear to be corrugated metal.
TURQUOISE TILE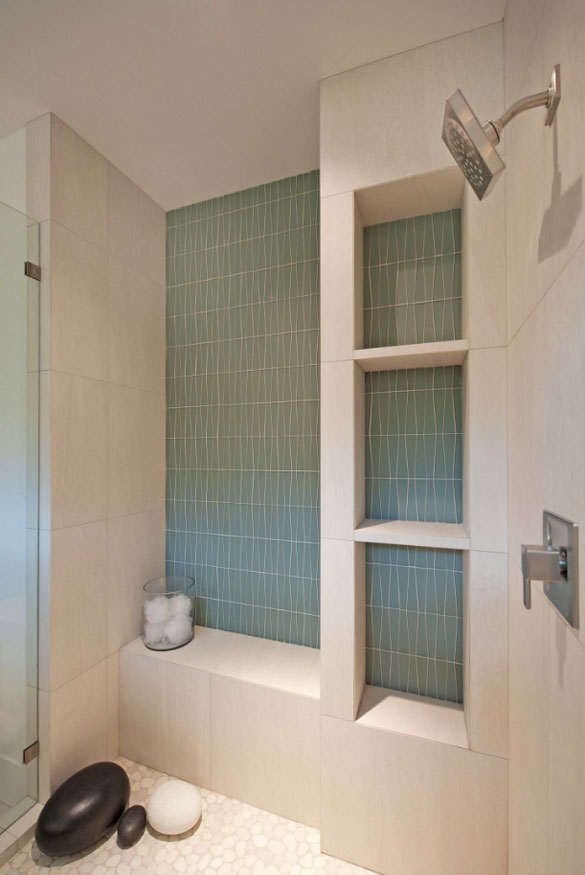 Sticks and Stones Design Group inc.
Turquoise tile niches add a great pop of color to this shower.
LUXURY SHOWER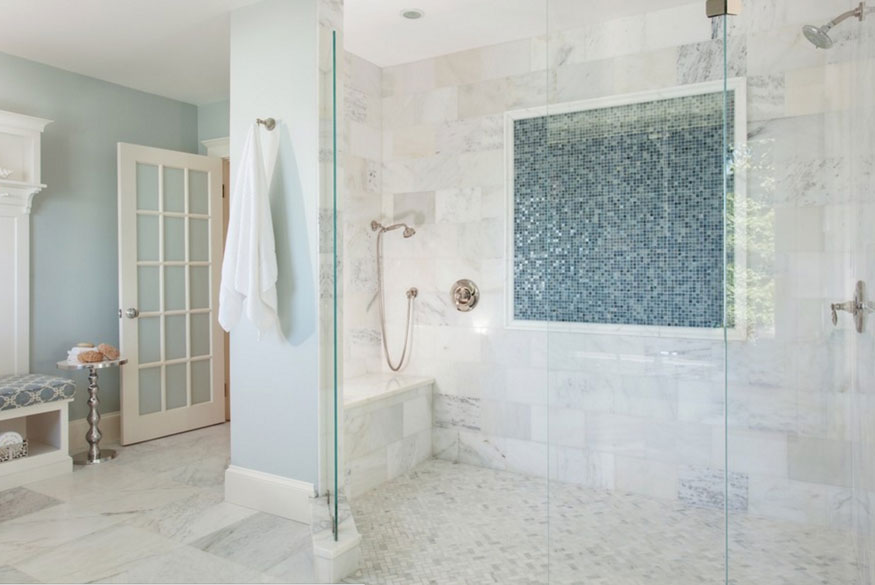 Roomscapes Luxury Design Center
A beach style bathroom that boasts a spacious shower and stunning blue inset tile.
DREAMY BATH
Sebring Design Build
Stunning walk in shower in this dreamy master bathroom.
BRICK WALL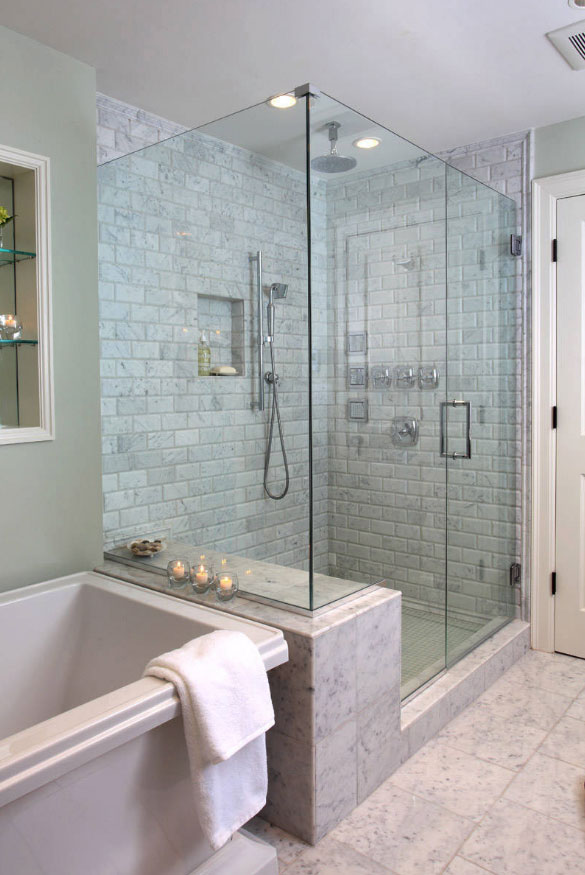 Justine Sterling Design
I really like the pretty gray brick wall tile.
MARBLE SHOWER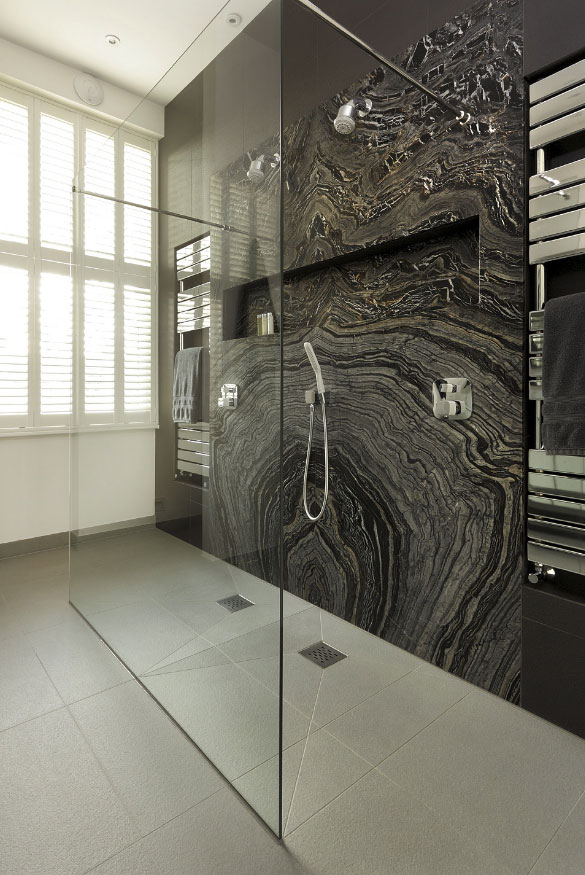 Cue & Cue of London
This very contemporary shower showcases a black natural stone/marble wall.
TAUPE TILE
London Basement
The taupe wall tile is so different. We love the curbless shower floor.  But the lights in the shower niche are awesome!
SHIPLAP SHOWER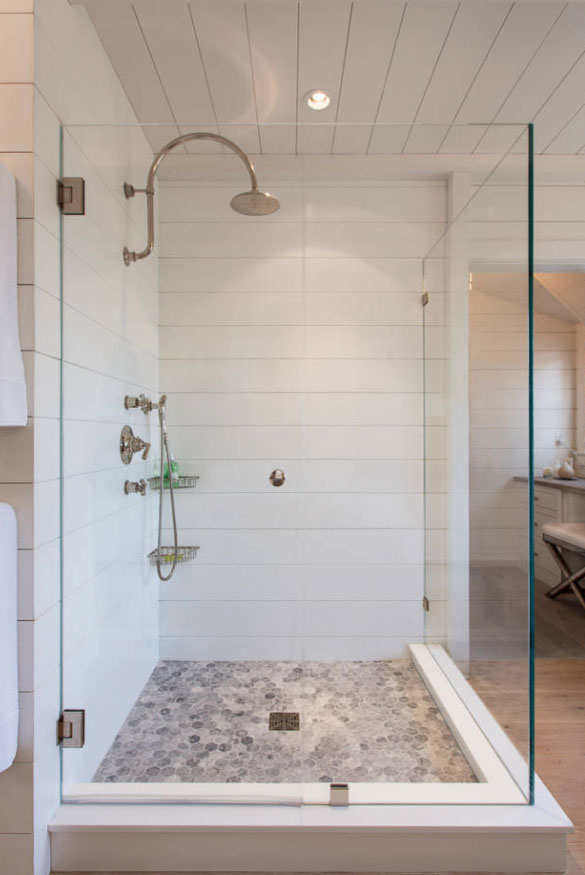 Jonathan Raith Inc.
Love how they made the Corian sheet to look like shiplap. Perfect for a beach-inspired bathroom. The gray hex tiles on the floor are a nice touch too!
CLASSY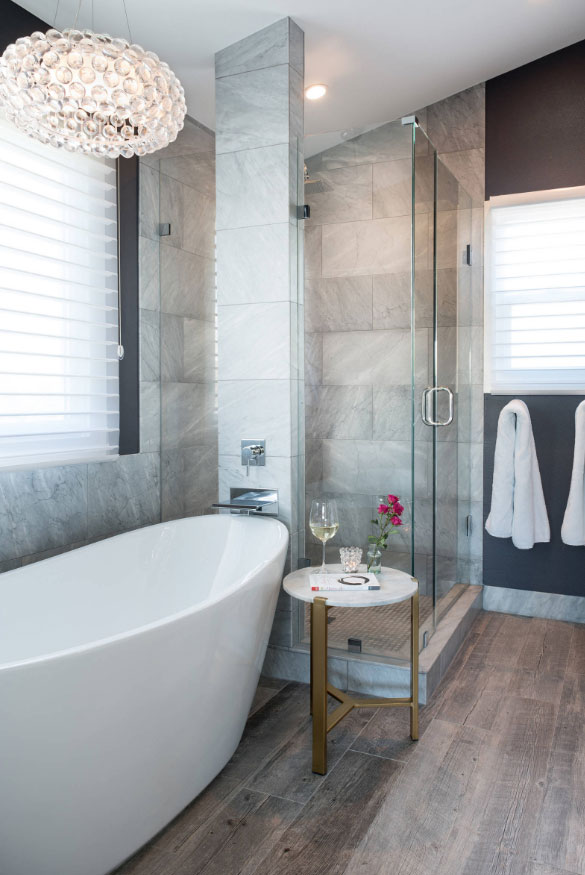 Oliver Designs
Very classy walk in shower with glass doors.
MOUNTAIN STYLE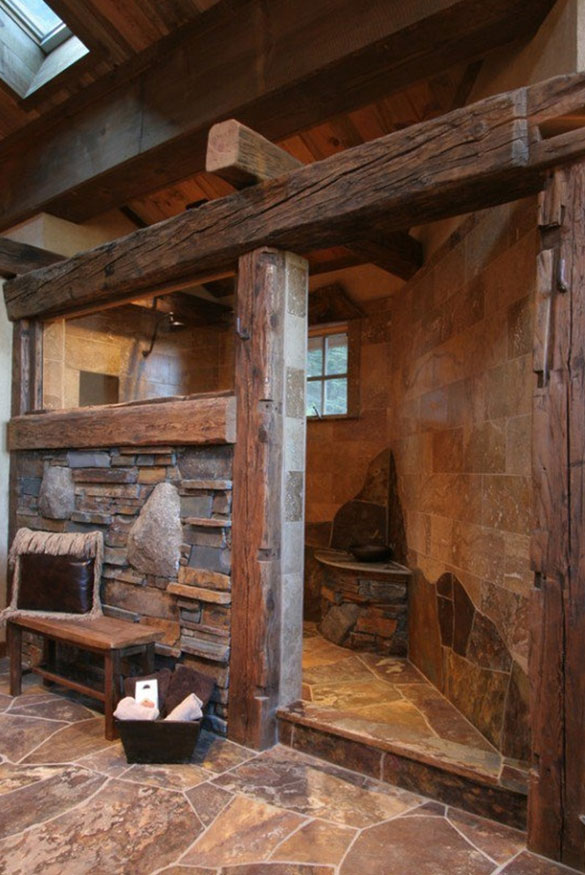 High Camp Home
Rustic mountain style shower with tons of great detail.
MINIMALISTIC
Pinevale Plumbing & Heating Ltd/Towncourt Homes
Very minimalist and contemporary. Heated towel rack is a great touch!
BLUE & GRAY
Paul Craig Photography/Hampton Kitchens of Raleigh
Love the dark gray and blue tones in this walk in shower and how the white just brightens it all up.
SLEEK & SLICK
Malboeuf Bowie Architecture
Very sleek bathroom and another cool sink! The glossy long black tiles are a great feature.
SERENE SUBWAY
Leivars
I really like the white subway tile in this shower. The sink/vanity combination are really unique.
RUSTIC TUB
Pinetop Custom Homes
Cool double opening shower setup. Love the tub in the center, very unique.
LARGE SHOWER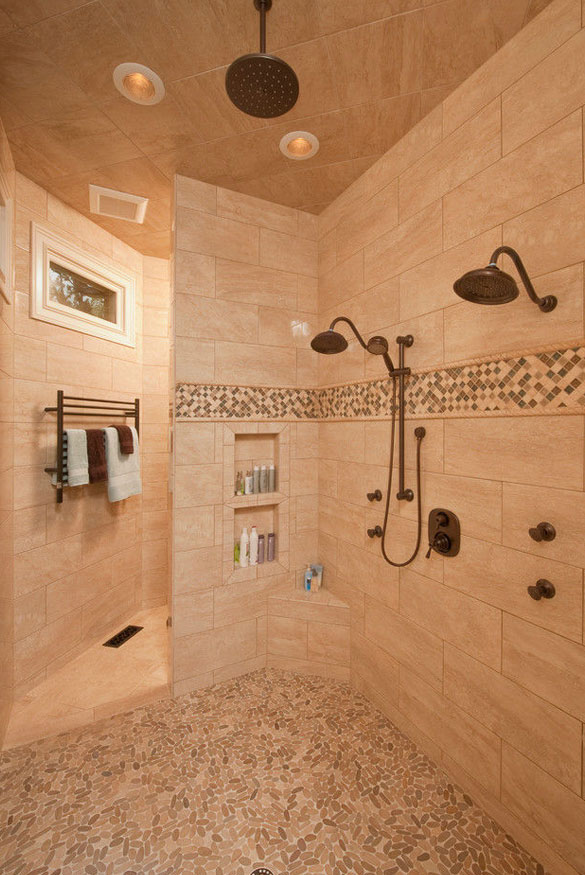 Steven Paul Witsitt Photography
This shower looks so spacious. Very traditional fixtures.
PENNY TILE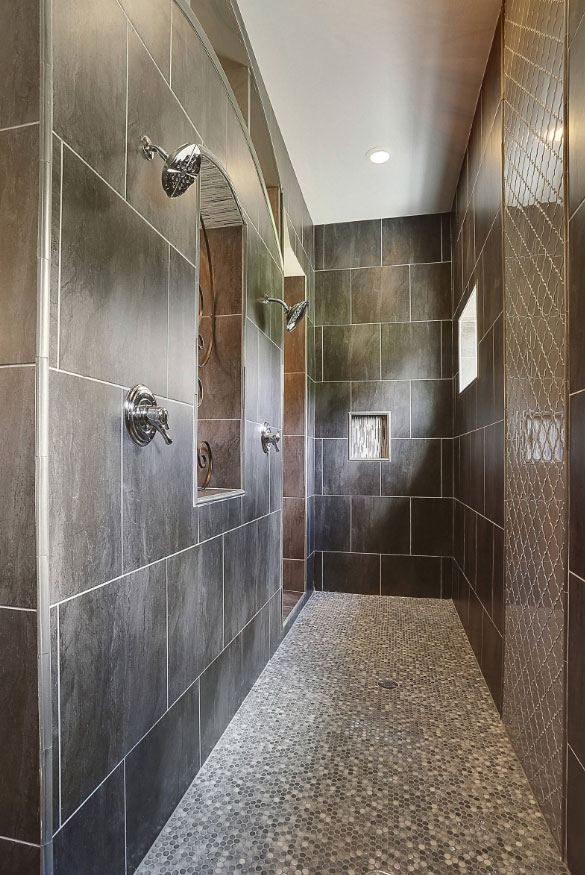 Hollingsworth Design
Love the penny tile floor in this two person walk in shower.
FEATURED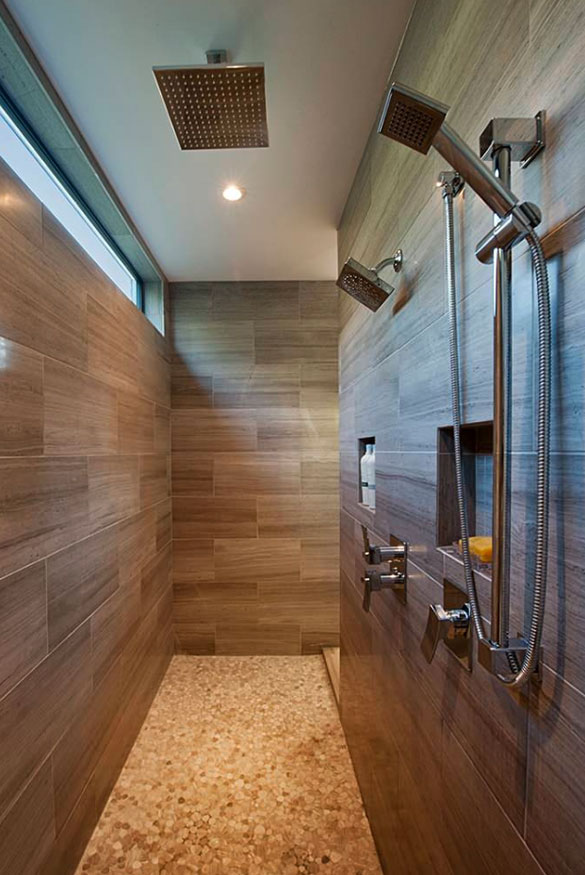 Rockridge Fine Homes
I really like the square and rectangular shower fixtures in this double walk in shower.
OPEN & AIRY
PAD Architects LLP
Open, bright and airy. Very contemporary. Like the window for light, but hope neighbors aren't right next door looking in.
GRAY TILE
Pearl Interiors
That gray tile is so huge! I've never seen tile that size.
RAIN SHOWER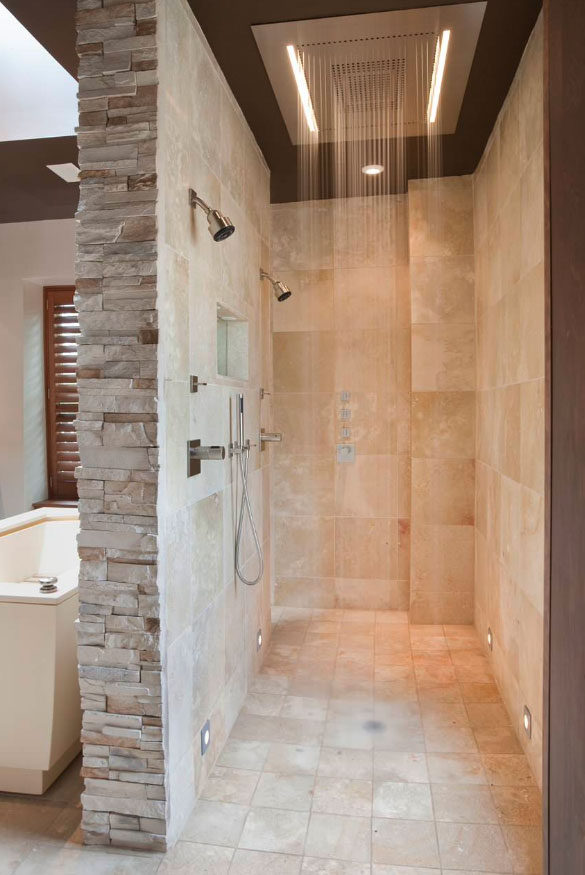 RT Design Build
This trendy double shower has an awesome rainshower feature. Pretty tile and stone too.
OPEN WALK IN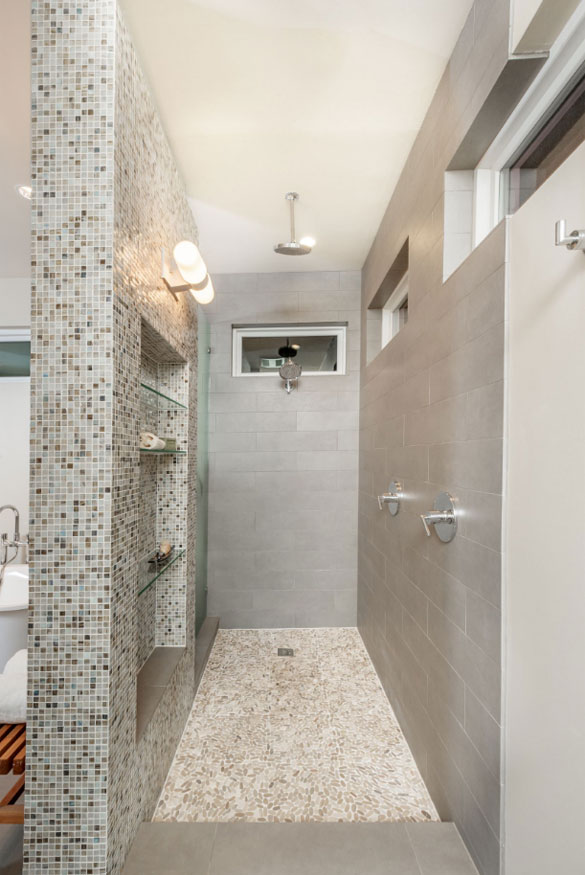 ssociate Interiors
Very nice open walk in shower in calming gray tones. Love the pebble tile floors.
Things To Consider When Installing A Walk In Shower
We could spend all day looking at walk-in shower designs since they are so lovely! We used to obsess over them, figuring they were just destined for huge baths and fancy homes, but these stunning rooms have proven us wrong. It turns out that a walk-in shower may also function in a tiny bathroom. In fact, they are an excellent alternative for a small area because you eliminate the cumbersome tray and enclosure. They can also be used with any style, and you can currently find some really affordable designs.
Having a walk-in shower has various advantages. You will be able to use a small or awkward space where a bath or regular shower would not fit due to the lack of an appropriate enclosure. You're also future-proofing your home by tanking the room because having waterproof surfaces will come in handy during bath time with little children.
A walk-in shower works nicely in a variety of bathroom designs. It's a terrific alternative for small rooms because a standard shower enclosure can split up the area & make it look smaller than it is. A walk-in shower creates the sense of a larger room by providing a larger feel—primarily if you use a simple, frameless glass panel.
Because of their unobtrusive style, walk-in showers go in well with various bathroom trends. They add to the overall aesthetic and improve the overall design of modern bathrooms. They can lend a subtle contemporary edge to more classic bathrooms. You can design your walk-in bathroom in various colors, ranging from whites to dark blacks, to match any color scheme.
Select The Best Location For A Walk-In Shower
When preparing to install a walk-in shower, one of the first things to consider is the location of the drain. To reduce the chance of water escaping the room, the drain should be placed as far away from the bathroom door as feasible. If you have a hardwood subfloor, the location of your drain is determined by the way your joists run. To avoid any tricky wedging effects, you'll also need to consider how the gradient falls towards the garbage will run.
Include An Elegant Partition In A Walk-In Shower
A walk-in shower divider may not be necessary in larger bathrooms, but to make them work in a compact area, you will most likely need something to keep water from splashing all over the place. Black Crittall-style shower partitions are incredibly trendy right now, and they appear to be in every bathroom on Instagram. They manage to make a statement while being subtle.
dd A Walk-In Shower To A Standard Bathroom
Walk-in showers appear to be associated with more modern bathrooms, although they can also be used in more classic bathrooms. The wall paneling in this bathroom is in keeping with the time, and the basic glass screen doesn't break up the space or add anything too modern.
Take note of the shelves that have been incorporated into this walk-in shower; they are a terrific way to provide storage for your toiletries as well as decoration.
Make A Walk-In Shower Work Even In The Smallest Bathroom
As we mentioned, walk-in showers could be the greatest solution in a small bathroom. A shower enclosure would take up unnecessary space in this cramped space, whereas a walk-in shower offers a seamless look. The partition is a curtain on a sliding rail that can be placed against the wall when the shower isn't in use, which is quite ingenious and looks fantastic.
Use Bold Tiles To Make A Walk-In Shower A Feature
A walk-in shower can be a focal point in your bathroom rather than a minor detail. Bold tiles are a great way to achieve this, and you don't need to tile much of the area to create an impact; try tiling the back of your walk-in shower with a large statement pattern and keeping the rest of the room basic so the shower becomes the focal point.
Work Next To A Window With A Walk-in Shower
A window in a bathroom is a desirable feature, but it can limit where you can place your bathroom furniture. A walk-in shower avoids all of these issues since you can simply install a window in the shower—a functional solution that also looks great!
Make A Walk-In Shower Nearly Invisible
If you have a small bathroom, constructing a walk-in shower that fits seamlessly and nearly invisibly into your space is a smart idea. Match the shower tiles to the wall tiles and keep the surround slim and basic.
How Much Does It Cost To Install A Walk-In Shower
This is determined by the design chosen. For a simple tray & screen design, you can get a pre-fab unit for roughly $1,000, but the prices rise from there if you want something more opulent. You may pay anything from $8,000 and $15,000 for something completely customized.
You must also consider the cost of installation. It depends on how much plumbing work you require, but it might cost between $2,000 and $2,500 if pipes need to be replaced. You should factor in the expense of waterproofing the room, which is likely to be roughly $1,000. The cost of tiles and labor to install them should also be accounted for—obviously, this will vary depending on the tiles you select, but on average, you should spend $2,000.
What Material Is Best For A Walk-In Shower
When selecting a material for your walk-in shower, you have many alternatives. Ceramic tiles or glass are some of the most popular shower wall options since they come in a variety of styles and are easy to maintain. Marble and natural stone also work well, but they can be expensive, so it all depends on your budget.
The ideal material for the walk-in shower flooring depends on your design—if you want a shower tray, you can select between acrylic and ceramic. If you're going to tile the floor to match the rest of your area, you may need to be more selective.
Instead of a shower tray, opt for a walk-in shower or wet room, which enables the floor tiles to run to the shower area, adding visual space to a room. However, not all surfaces are suitable for usage in a wet environment, and it is critical to understand the slip rating of the material. To provide increased traction in damp situations, I recommend utilizing a material with a structured, textured finish. Mosaics are also an excellent choice for damp places since the grout lines between the tiles provide adequate grip.
Glass is usually an excellent choice for a bathroom. Glass, which is both transparent and reflecting, can make a space feel brighter and more expansive. Water-resistant marble appearance tiles may look truly sophisticated in wetrooms, and they also come in a variety of hues ranging from dark to light.
If you love spacey, bright and airy bathrooms, the luxury walk in shower could be just what you need. Despite its minimalist feel, there are numerous design styles to choose from. We have given you a few ideas above to get your creative juices flowing.
If you are ready to get your own walk in shower, we are here to help you in any way possible. Talk to us with any comments and questions.
This is an image roundup post, curated to showcase and promote other reputable contracting companies' and their amazing work.  To have any of the images removed, please reach out to us and we would be happy to do so.
The post 39 Luxury Walk in Shower Tile Ideas That Will Inspire You appeared first on Luxury Home Remodeling | Sebring Design Build.
Did you miss our previous article…
https://www.richmondhomeinc.com/?p=894